Coup de Cœur Event
The Jeunesses Musicales Canada Foundation (JMCF) is pleased to invite you to the 4th Edition of their Coup de Cœur Event, taking place on Thursday, May 2 at the Windsor Ballrooms of Montréal.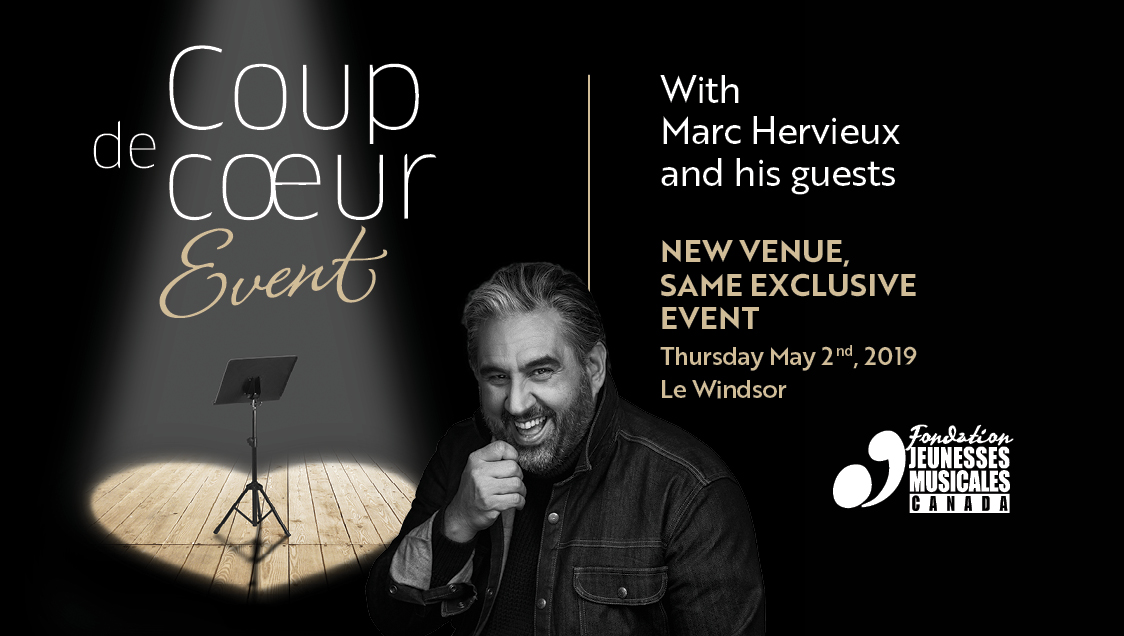 ​
This event celebrates JMC's mission by showcasing an artist we have known since the very beginning of their career while favouring their contact with the new generation of JMC artists.

This year, our Coup de Cœur artist will be the internationally renowned tenor Marc Hervieux. He will offer an intimate recital and host the evening with that unique touch of his. There is no doubt that is presence and that of his guests will make for an exceptional evening. The profits from the event will allow us to continue working with JMC to develop the taste of music in children aged 3 to 12, while supporting the career of emerging professional musicians.

We are looking forward to seeing you again at this event which promises to be laden with emotion.
Thursday, May 2, 2019
The Windsor Ballroons, located at 1170, rue Peel, Montréal
6 p.m.: cocktail (regular or VIP)
7 p.m.: concert by Marc Hervieux and his guests
8 p.m.: 3-course gourmet dinner


Various packages available*
Coup de cœur Package (cocktail, concert and dinner)
Single ticket : $500
Table for 8 people: $4,000
Table for 10 people: $5,000
VIP Table for 10 people : $10,000
Concert Package (cocktail and concert only)
Single ticket : $125
Make a donation
Take this opportunity to make a donation to the JMCF and help achieve JMC's mission.
* An official tax receipt will be issued.
The organizing committee:
Yolande Cardinal, Louis Dessureault, Claude Gagliardi, Jean-Guy Gingras, Reynald N. Harpin, Danièle LeBlanc, Richard Lupien, Joseph Rouleau and Marc Rouleau.
Tickets, donations or information:
Chantal Poulin: 514 845-4108, ext. 246 or by email.